Come, Stay, and Play at our Adirondack Resort!
When you go on vacation, you don't want to put your pet in just any kennel. You want your pets to go on vacation too!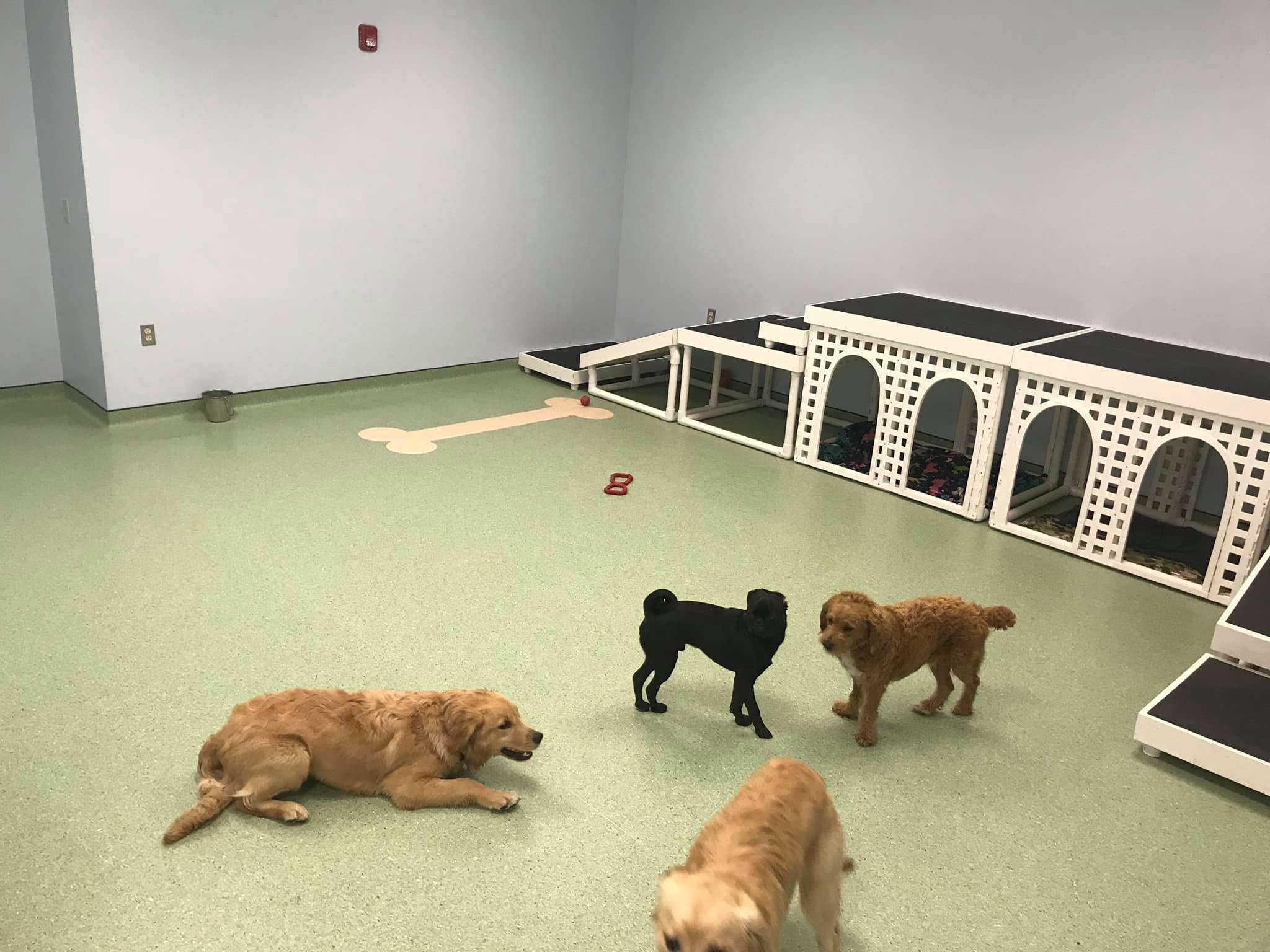 OUR FACILITY:
Brand new animal housing with peaceful colors, and large sizes to provide a safe, and comfortable atmosphere. Cat housing is located far away from the dogs in a quiet location.
Acoustical materials are installed that reduce noise and echoes. Calming music played daily
UV light disinfected and fresh air mixed HVAC system to reduce airborne illnesses.
Safe, effective disinfectants used to clean the housing using accelerated hydrogen peroxide
Housing built with colors and sizes that reduce stress designed for long term boarding situations
Non-slip, antimicrobial flooring designed to look like a resort with a waterfall, stream, a beach, and grass areas.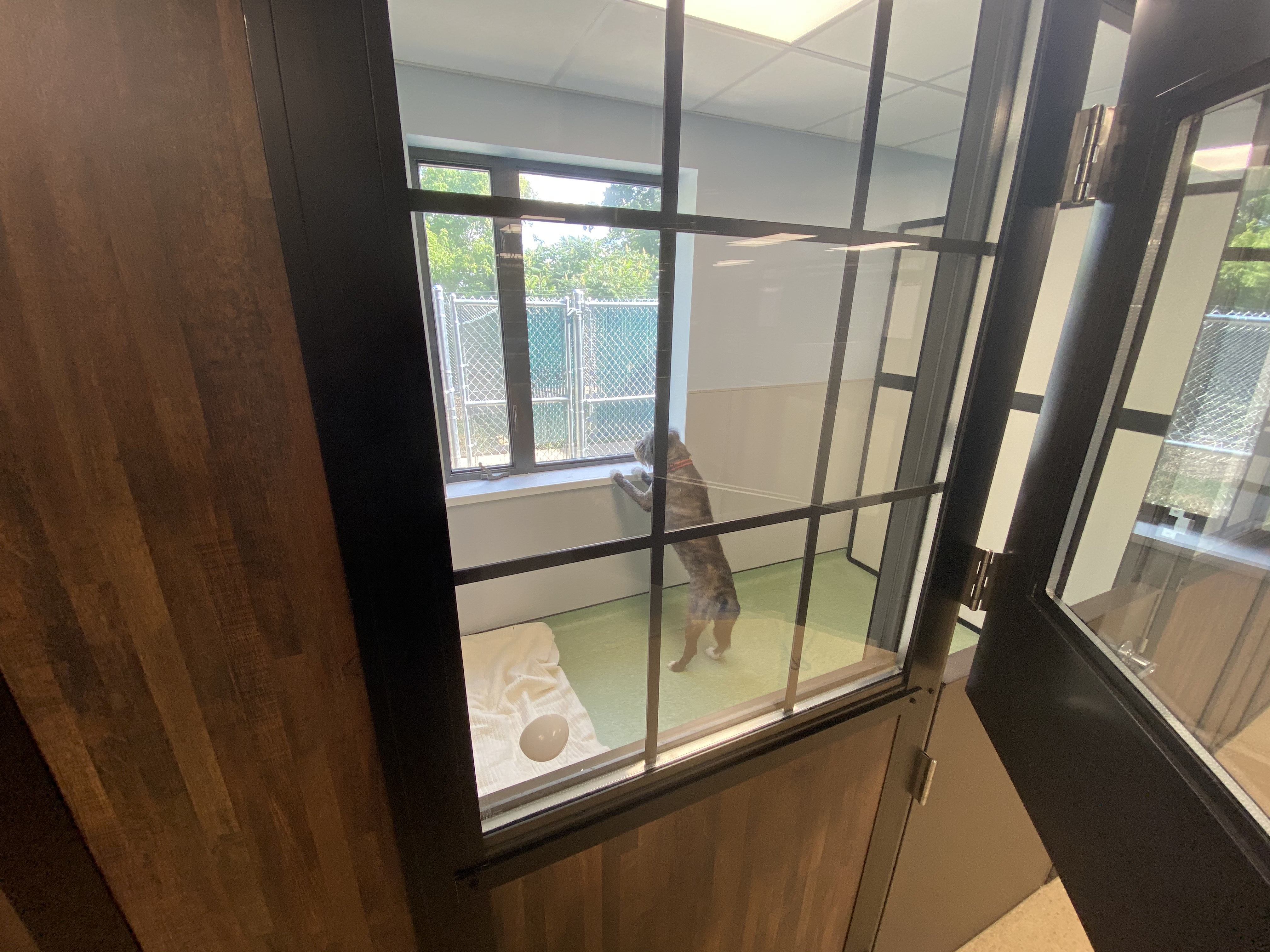 The Lodge: The ultimate space for your dog's vacation. A 6ft. x 9ft. room with windows looking into a huge outdoor play area, sunbeams, and comfortable bedding. It is large enough for most dog families to stay together.
Deluxe Cabin: A huge 4ft. x 10ft. kennel separated by a door in the middle. This allows for the "suite life" while you're away. Dogs can choose to hang out on either size and use the other side for the bathroom, living room, or dining room.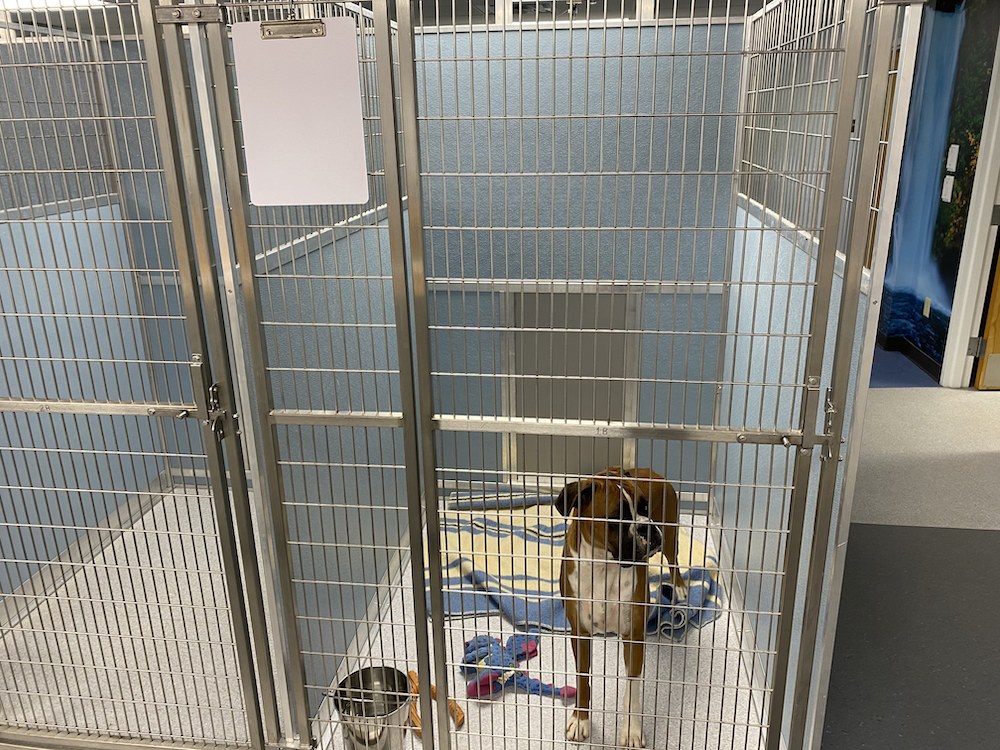 Cabin: A 4ft. x 5ft. kennel perfect for short stays for small to large breed dogs.
Cottages: A 3ft. x 4ft. housing that is separate from the larger dog room. This is available to small breed dogs. This allows your smaller friends a quieter environment housed near dogs of a similar size.
Luxury Cat Suites: We didn't forget about the cats. We have huge cat suites and a custom-made cat wall for your adventurous kitty to play on while you're away. The luxury cat suites have a separate litter room, so they don't have to lay close to their litter. They also have two separate perches where they can hang out. If you are renting the suites for several cats, two suites can be connected so your cats can be together while you're apart.
OUR PROTOCOLS:
Your dog and cat need more room than a traditional kennel offers.
Upon check-in, your dog will be allowed to run free in one of our daycare or outdoor areas for a short period of time. This allows your dog to acclimate to their vacation settings before being shown their housing.
For dogs staying longer than 3 nights (4 days), we REQUIRE that medium to giant breed dogs stay in one of our deluxe cabins or a lodge. This helps alleviate stress in your dogs by giving them an extra area to hang out/eliminate if necessary, and/or choose where they want to sleep.
If your small breed dog needs to stay over 7 nights, we STRONGLY RECOMMEND larger accommodations. This design has been proven to reduce stress in dogs in long term boarding situations.
Our housing is designed so that dogs won't be able to see another dog on their level, which keeps your dog calmer if the dog "across the way" is intimidating.
Dogs are taken out at least three times daily for bathroom breaks.
Cats are allowed access to the climbing wall and views to the outside.
We have a la carte options for purchase where you can create the perfect vacation tailored specifically to your pet's individual needs.
Rates:
| | | | | | |
| --- | --- | --- | --- | --- | --- |
| Housing | Size | Breed Limits | Day Limit | Rental Price per Night | Additional Pet per Night |
| Cottage | 3ft. x 4ft. | Small | 7 nights or less | $44 | $40 |
| Cabin | 4ft. x 5ft. | Small to Large | 3 nights or less | $47 | $43 |
| Deluxe Cabin | 4ft. x 10ft | Small to Giant | None | $57 | $50 |
| Lodge | 6ft. x 9ft. | Small to Giant | None | $75 | $50 |
| Cat Suites | Multi-level with separate litter area | All domestic house cats | None | $35 | $30 |
Cost per night is based on a check in time after 2:00pm and a check out time by 11:00am the next day. If you pick up your pet after 11:00am, you will be charged for an additional day. Early check in is available for an additional fee (see a la carte page).
Extras:
| | | | |
| --- | --- | --- | --- |
| Extras | Time | Fee | Additional Pets |
| Playtime | 15min | $13 | $23 |
| Brush | 10min | $9 | $7 |
| Cuddle | 10min | $9 | $7 |
| Raised bed | Daily | Free | |
| Frozen Kong | Daily | $5 | |
| Giving meds | AM/PM | $2/medication | |
| Sunday Checkout * | Between 6-6:30pm | Sunday board | |
| Early Check in | Before 2:00pm | $20 | $35 |
| Funday | | $16 | $13 |
| Canine Camp | | $24 | $19 |
*Sunday checkout must be scheduled in advanced and the full payment must be paid prior to picking up your pet. We recommend setting this up when you schedule your pet's boarding and allow us to remit payment on Saturday before you pick up.
Please note that these packages are in addition to the boarding fee.
Canine Camp: package is for those dogs that need extra playtime during the day. If your dog is high energy and needs to keep moving, consider adding this in addition to your pet's stay. Cost: $23 per day, or $40 per for two dogs in same household.
Includes:
Doggy Daycare or 2 individual playtimes

Petcot

Raised bed

Nightly frozen stuffed Kong
Funday: the option is ideal for dogs who require some love and attention, with a little bit of play time. Price: $15
Raised bed

1 private playtime

1 cuddle session
For any packages involving a doctor evaluation, please provide a contact number and if you have any financial concerns regarding any additional diagnostics that the doctors may want to perform on your pet. If we can't reach you, we will provide you a written estimate when you pick your pet up and a detailed discharge summary.
OUR BOARDING FACILITY WAS DESIGNED TO BE THE BETTER THAN LEAVING YOUR PET HOME:
We know that a "pet sitter" is just an app away. We understand that the natural inclination is that your pet is "better off at home" when you're away, however, when you go on vacation, is your pet getting mental, physical and emotional stimulation while your pet waits for the sitter? How much can you trust your app to provide the best care while you're away? Is your pet's doctor nearby if your pet becomes ill? We wanted to provide an experience tailored to your pet and the amount of interaction that your pet is used to when you are away.
If you would like to book a stay for your pet at our resort, please fill out the Boarding Consent Form. If you would like your dog to be a part of daycare during their stay, please fill out the Daycare Consent Form as well.
Boarding Consent Form
Daycare Consent Form