Guilderhaven, Inc.
We help local families through a local low cost spay/neuter program through Guilderhaven Inc. Donations are always appreciated. Contact them here.
PAWS
We also support PAWS, a program that is dedicated to improving the quality of life of people living with HIV/AIDS in the Capital District. Donations are always appreciated. Contact them here.
Student Education
Helping our next generation of animal care professionals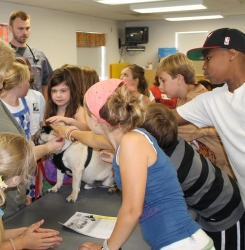 Dr. Pike participates in Career Day at the Van Antwerp Middle School. Through this program, seventh graders learn about what its like in the daily life of a small animal veterinarian.
We participate in the Niskayuna and Shenendehowa CEIP programs. These programs offers high school students the opportunity to "shadow" a veterinarian, allowing potential veterinarians the opportunity to see the ins and outs of a small animal practice.
"I Love My Pet" annual high school art contest
Aqueduct Animal Hospital hosts an annual art show. Niskayuna High School students submit animal themed artwork. Judging criteria is based on the artwork that best displays an animal's personality, beauty, purpose, and/or the human/animal bond. Four winners are selected and their art is displayed in our lobby for a year. This annual contest started in 2012. Its a great way for aspiring artists to have their work displayed as well as gain a resume-building experience.